OVERVIEW
An FFF full color 3D printer everyone can use. The da Vinci Color mini uses new CMY inkjet technology to deliver consistent and quality full-color prints.
- Millions of Colors
- Compact and Intuitive. Gentle Learning Curve.
- Free 3D Modeling Software and 3D Model Gallery
- Upgradable Laser Engraving Module
With color 3D printing, turn your daily musings and sketches into full-color reality from the comfort of your home. With the da Vinci Color mini, color 3D printing is not a dream anymore.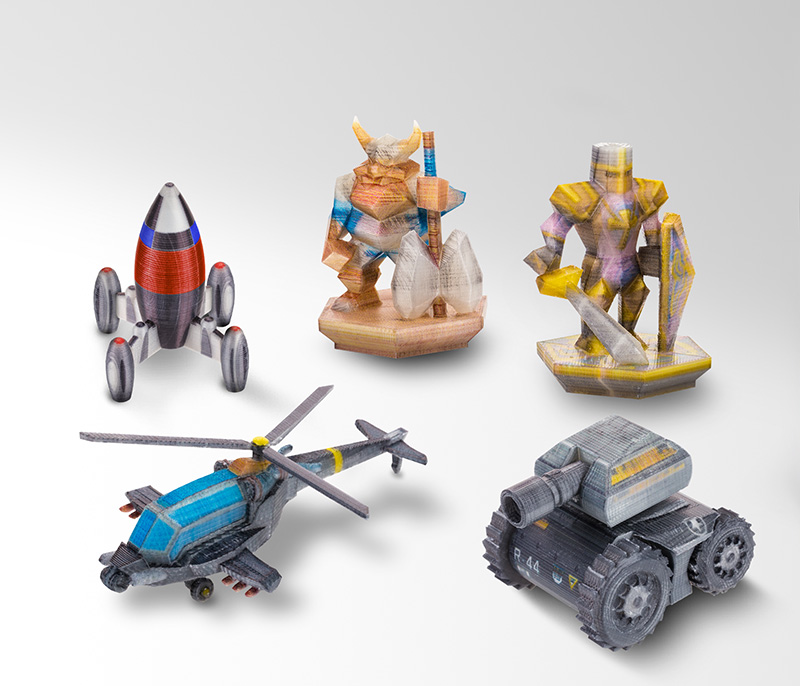 Bring your dreams to life, with full color 3D printing.
We all have dreams, and dreams start with ideas. Ideas flit in and out of our heads every day. They could be anything from a unique earring design, a personalized cake mold, to Sheldon Cooper in Batman gear.
We help you transform your everyday ideas into reality, effortlessly.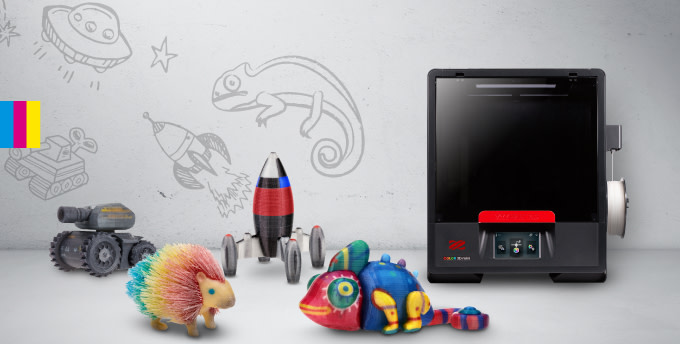 We've been in the business of making dreams happen since 2013, having developed more than 25 models of 3D printers. Not content with mono-color 3D printing, we developed the WORLD'S FIRST FFF full color 3D printer, the da Vinci Color in 2017.
This time, we've broken new frontiers again with our second generation of full color 3D printers, the da Vinci Color mini – a compact and equally capable version of the da Vinci Color.
Designed For Performance
You no longer need to spend hours hand painting your 3D models. Using the da Vinci Color mini, print your 3D designs directly in full color. With its full range of features, you get to achieve quality color 3D prints while enjoying a hassle-free printing experience.
There's even an option to use the da Vinci Color mini as a laser engraver!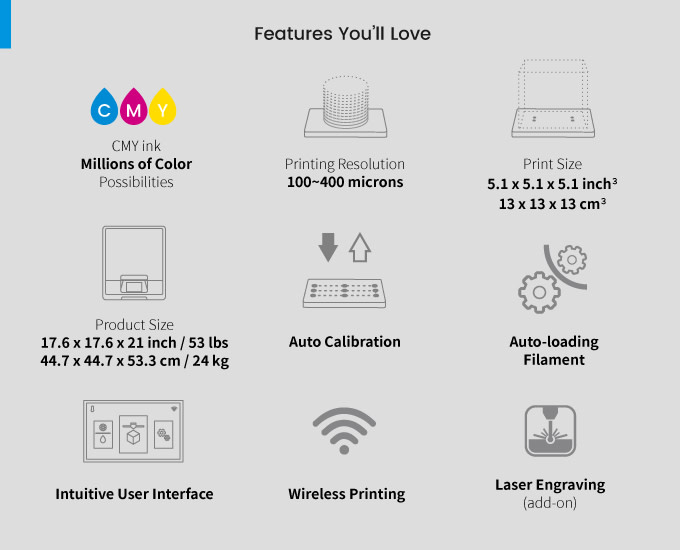 Designed For Your Space
With its compact 17.6" x 17.6" x 21" size, the da Vinci Color mini fits comfortably on any study or office desk without crowding you out. Its sleek black design makes it blend elegantly into your home or office.
Designed For Possibilities

Airbrushing and hand painting your 3D models are now things of the past. Now, you get to print your favorite action figures or accessories directly in full color. The da Vinci Color mini is also extremely intuitive and allows beginners to get right into the thick of the (3D printing) action.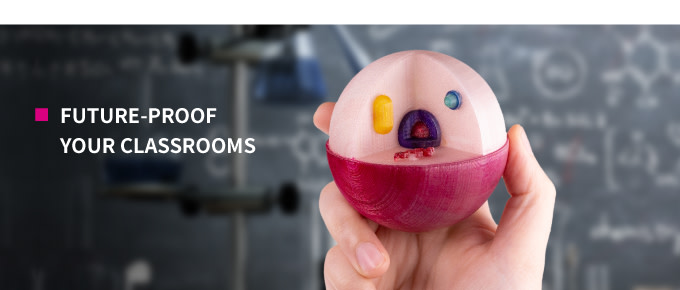 3D printing is used in high schools to teach science, technology, engineering, arts, and math (STEAM) subjects. The da Vinci Color mini is an affordable option for you or your school to weave 3D printing into your lesson plans. If you're an educator, this is the perfect opportunity for you to future-proof your classrooms. Imagine printing out a color 3D model of a cell in Biology class – it's now within reach.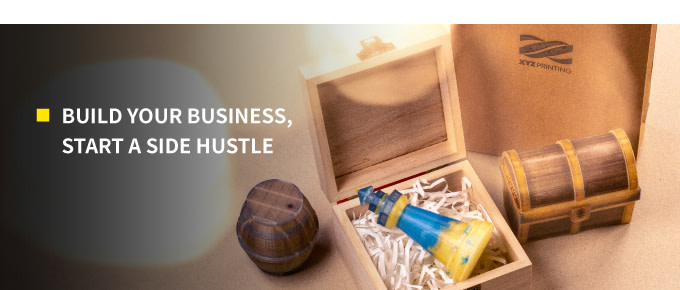 Design and build prototypes for your business or side hustle. The da Vinci Color mini has a print dimension of 5.1 x 5.1 x 5.1 inch3, making it perfect for prototyping products like gifts, accessories, component parts, or even bespoke jewelry. Or any product whose colors from an important part of the product concept. You get to enjoy the flexibility of choosing how many to print, allowing you to save costs and minimize risks.
Designed For Your Budget
No need to break the bank for a full color 3D printer. The da Vinci Color mini is the most affordableoption for full color 3D prints.
Our first-generation color 3D printer, the da Vinci Color may be a hefty investment for some of you who are just starting out. Other models out in the market are expected to set you back by at least $20,000.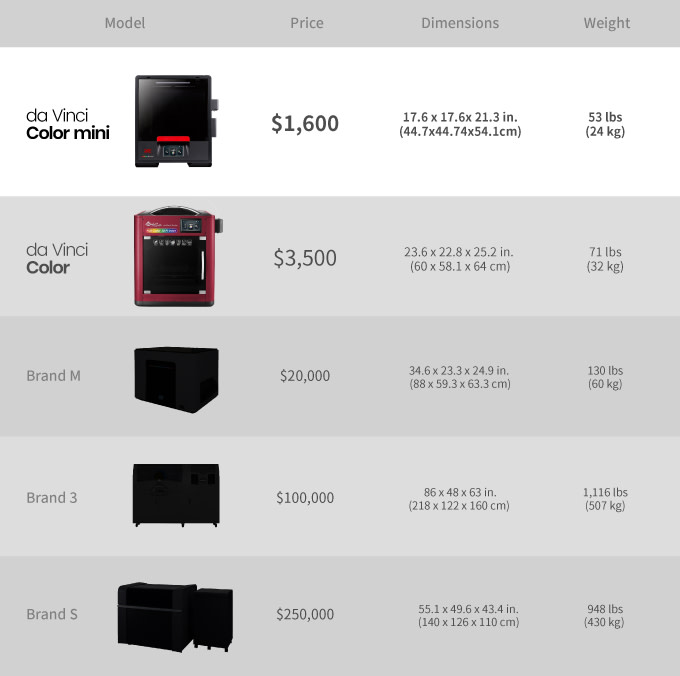 Owning a full color 3D printer does not have to be an extravagant dream. Bring home your own da Vinci Color mini for only $1,599.
How does CMY full-color 3D printing work ?
Achieve high quality full color 3D prints with our very own 3DColorJet® technology.
3DColorJet® technology allows CMY (Cyan, Magenta, Yellow) ink droplets to be absorbed by our special color-absorbing filament, the 3D Color-inkjet PLA. These colors are mixed to create the millions of color possibilities you can use for your 3D models. The video below shows you how.
Undoubtedly, 3D printing is a complex science. At XYZprinting, we aim to make 3D color printing quick, easy, and fun. The da Vinci Color mini lets you enjoy color 3D printing without having to fuss about its technical details.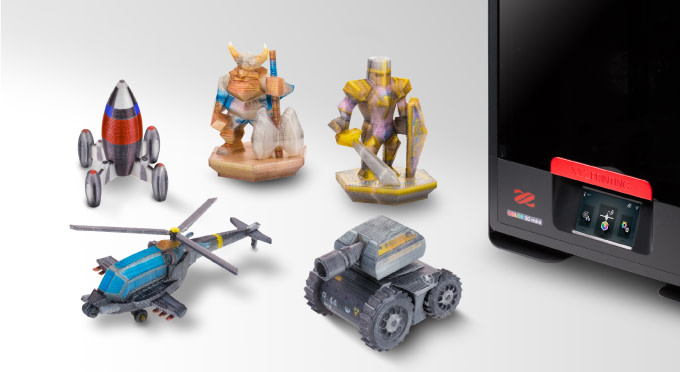 Seriously, can anyone learn 3D printing ?
From software to hardware, the learning curve is gentle so you can pick up color 3D printing quickly.
For those just starting out, you can use our dedicated all-in-one software suite, XYZmaker Suitefor a quick head start in 3D modeling and printing. Preset printing options make it even easier for you to get started instantly with color 3D printing.
Setting up for print is easy too. Control the da Vinci Color mini using its 5-inch LCD Touch Screen Panel and auto-load the plastic filament for your 3D model effortlessly.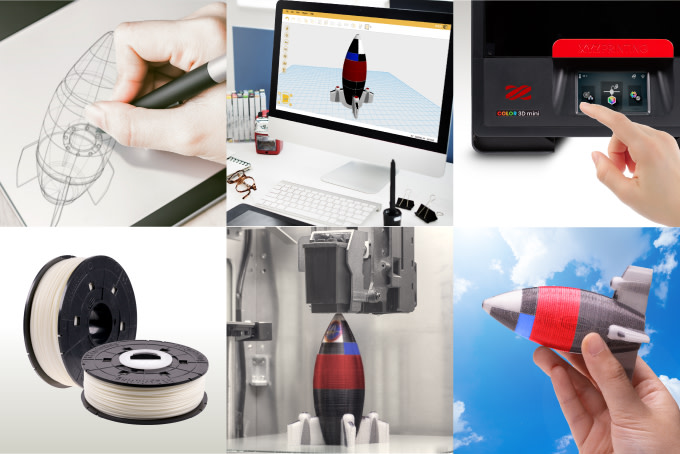 I don't have a PhD in 3D modeling. How do I start ?
Most of us don't. You only need to start. XYZmaker Suite has everything you need for designing and editing your 3D models.
For all of you creative types, unleash your imagination by building your very own ideas from scratch on XYZmaker or download and experiment on an existing 3D model from our 3D Gallery. Check out this 3D-printed Stormtrooper from the gallery! If you're an advanced user, you can construct your models with other software and load it up in XYZmaker Suite.

What if I want to use other software ?
You get to do it seamlessly. XYZmaker Suite supports the most common 3D file formats like AMF, PLY, OBJ, and STL. You can construct your 3D models with other modeling software. When your models are completed, load them up in XYZmaker Suite and start printing!
Not rocket science at all.
I can also laser engrave ? Really ?
Apply the professional finishing touch to your creative projects with our optional add-on, the laser engraver. In a few simple steps, turn the da Vinci Color mini into a laser engraver.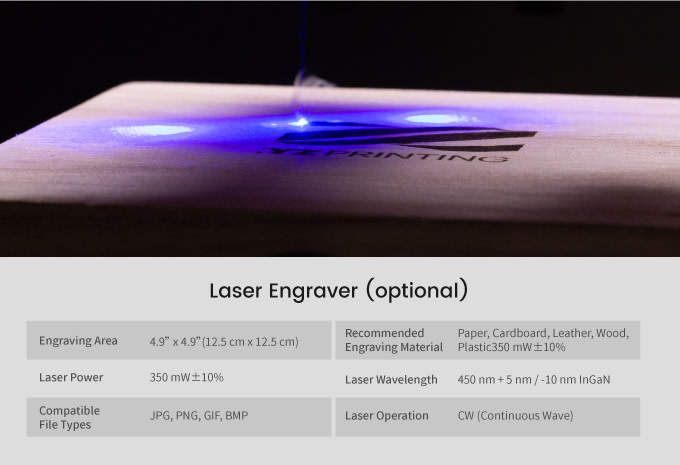 You start by swapping the extruder for our laser engraver module. Choose the image you want to etch and load it in XYZmaker Suite, which has a dedicated laser engraving software tool. You also get to choose between raster and vector engraving modes for creating your desired look.
The da Vinci Color mini gives you the power to color 3D print and laser engrave with only one machine.
Printing Properties
 
Print Technology
"Color Texture Inkjet Printing 3D Structure 
Fused Filament fabrication (FFF)"
Max. Build Area (WxDxH)
5.1" x 5.1" x 5.1" (130 x 130 x 130 mm)
Layer Resolution
100 - 400 microns
XY Positioning Precision
X/Y 12.5 micron
Z Positioning Precision
Z : 0.0004 mm
Printing Software
XYZmaker Suite
Supported File Formats
.amf , .ply , .obj , .stl , .3cp, .3mf, .igs, .stp
Max. Moving Speed
170 mm/s
 
 

Material

 
Material Compatibility
3D Color-inkjet PLA / PLA / Antibacterial PLA / Tough PLA / PETG / *Premium Metallic PLA / *XYZ Carbon Fiber (*Option Extruder)
Filament Diameter
1.75 mm
Ink Type
3in1 Ink Cartridge (CMY)
 
 

Extruder (Standard)

 
Nozzle Diameter
0.4 mm
Number of Nozzles
1
 
 

Print Bed

 
Print Bed
Ez-removable Metal
Calibration
AUTO
 
 

Laser Engraver Module (Optional)

 
Engraving Area
13 cm x 13 cm
Laser Wavelength
450nm + 5nm/-10nm InGaN
Output Power
350mW ± 10%
Laser Engraving Software
XYZengraver
Supported Image Formats
.jpg / .png / .gif /.bmp
 
 

Hardware

 
Filament Feeding System
YES
Stepper Motors
1.8° HB Stepper Motors
User Interface
5" Touch Panel LCD
Language
Multilingual
Connectivity
USB 2.0 Cable, WiFi 802.11 b/g/n, USB Flash Drive
 
 

System Requirements

 
Operating Systems

Windows 7 / 8 / 8.1 / 10 (64 bits)
macOS 10.10 / 10.11 / 10.12 / 10.13 / 10.14

Operating Systems on Mobile Devices
Android 5.0 and above iOS 9 and above (iPad Only)
Minimum Hardware Requirements

For PC: CPU 4th Generation Intel® Core™ i5 Processor or more / RAM: 8GB/ Hard disk space: 20GB or more 
For MAC: RAM: 8GB / Hard disk space: 20GB or more For MAC: RAM: 8GB / Hard disk space: 20GB or more

 
 

Operating Requirements

 
Power Requirements
100V ~ 240V 240W
Operating Temperature
15 ~ 35 °C / 59 ~ 95 °F
Operation Humidity
10 ~ 80 % RH (no condensation)
Storage Temperature-Filament
10 ~ 40 °C / 50 ~ 104 °F
Storage Temperature-Ink cartridge
-5 ~ 35 °C / 23 ~ 95 °F
 
 

Size & Weight

 
Product Dimensions (WxDxH)
19.96" x 17.6" x 21.3" (507 x 447 x 541 mm)
Product Weight
24 kg (52.91 lbs)
Packed Dimensions (WxDxH)
25.83" x 21.97" x 26.57" (656 x 558 x 675 mm)
Packed Weight
29 kg (63.93 lbs)